Presented by Fabrizio Di Cola and Domenico Geluardi
Session Description: In the current scenario of the IT world, security is one of the preponderant factors in the development costs of many products, especially when it comes to software development. But how can we measure this software quality attribute? What portion of security can be considered part of the functional measure and what portion of a non-functional measure? By analyzing a real measurement scenario, we try to give an answer to this question by applying function point analysis and SNAP.
Speaker Bios: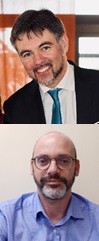 Fabrizio Di Cola got master graduated in Informatics Engineering. He had university research and private consulting experiences in the IT sector between 2000 and 2007. In 2007 he was hired by Sogei Spa as IT and Software Architect. He has been working in software measurement metrics as company reference in this sector since 2011. Currently he works as a teacher in CFPP/CFPS exam preparation and he has coordination responsibility in software measurement metrics experimentation and related projects too. He got CFPS in 2012, PMP in 2016, PMI-ACP in 2020. He is a member of the IFPUG's " Non-Functional Sizing Standards Committee" since 2020.
Domenico Geluardi got a Scientific high school graduation and gained experience in publishing sales. From 1999 to 2012 he worked as a consultant in the field of IT solutions in telecommunications and banking fields. and in web solutions in the gaming and institutional fields. In 2013 he was hired by Sogei Spa, in the role of expert analyst and software developer. Currently he deals with analysis, software development and testing in the gaming and institutional sector. He was certified in CFPS since 2014. He has collaborated in the preparation of numerous presentations valid for IFPUG conferences and certification extension program.